Why choose us?
Good Reasons to Choose Web Hosting Thailand
When it comes to prices per performance, Web Hosting Thailand never compromises with the cost. We do not stack hundreds of domains in one server but we have multiple mail servers, web servers and dns servers to serve our customers. As an added benefit, our high speed servers and larger IDC bandwidth help us maintain higher standard of web hosting service with low latency, best for business owners of any sizes.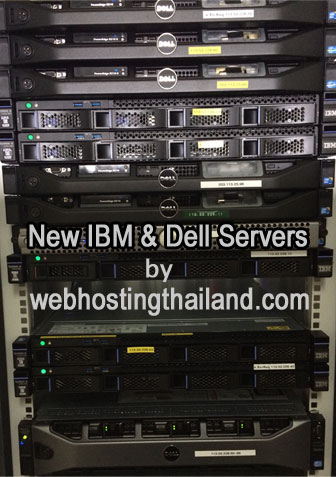 We use only new set of hardware to serve you
We guarantee price per space for a life time. We can upgrade you space and package when we bought a new server. You do not have to worry using a dinosaur technology since we usually buy a new server every 5 years to replace the old ones so your account can cope up with the new technology which is better than the day you signed up.
Free domain names (.com / .net / .org) for new domains registered with our web hosting forever. For those who register a new domain and sign up a web hosting account accounting for more than 500MB web space are eligible for 1 free domain name for good. However, under the following conditions are met;

.com .org .net .info only
all hosting packages other than the basic plans
for domains transfered from other hosts, registrar transfer is needed

Daily backup is scheduled automatically during your sleep. Did you know that many web hosting companies do not backup your data at all ? Some may have but only once a week or month. Web Hosting Thailand not only backups your data in realtime with RAID 1 (hard disk mirroring) but also runs a daily backup on our NAS system (Network Attached Storage) at night to make sure that your valued data is always protected.

Some of our customers transfered from other web hosting providers knows well about how important data is. Data is always available when hard drives fail.

Web Hosting Thailand uses only branded-name servers like IBM and Dell with 4GB of RAM as a minimum and high bandwidth availability make us in the forefront of the web hosting companies in Thailand. Also, we regularly upgrade our software OS on the servers to stabilize and help secured for any vulnerabilities. With the money you pay for the services, you always receive better valued services beyond the industry's standard.


This site is secured by Comodo SSL

2017 copyright, webhostingthailand.com by
Amiplay Co.,Ltd
.